SMALL GROUP
personal training
Our small group sessions are designed to not only be extremely effective, but to enjoy the process too. Our positive trainers will motivate you to do your absolute best during your sessions so that you walk away taller, stronger, fitter, leaner, more flexibile and in the best mood and incredible energy to face your busy days!
All of the sessions are kept small to ensure our trainers can give you all of the support that you need to gain you maximum results. We guide you and modify the exercises to suit your current fitness level and body so that you gain benefit but also can actually do the exercises provided. There's nothing worse than going to a new group and feeling like you can't keep up or that the exercises just don't feel right. We won't let that happen as we know body's are all unique and will help you gain the strength and mobility to move forward in your training. 
If you're ready to have some fun in a small, friendly group environment, what are you waiting for?
What good is punishing yourself if you can't have some fun?!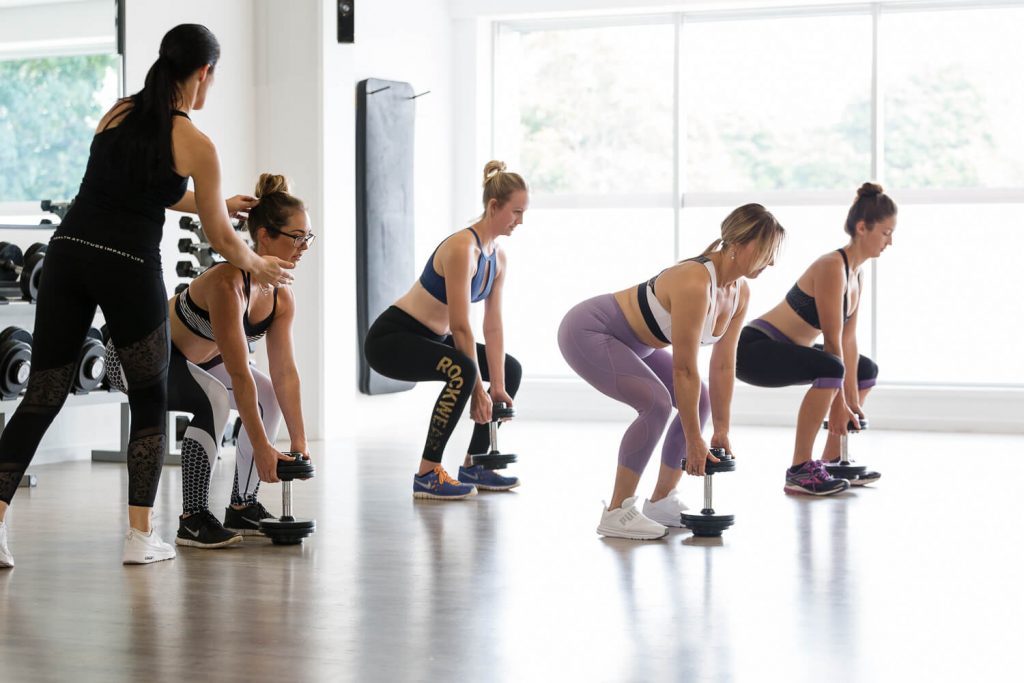 STRENGTH
Our strength sessions should be the basis of your program if you are wanting to be leaner, stronger, have a better functioning and flatter core and overall increase energy, mental strength and fitness. Hayley creates all of the programs to be extremely well balanced and effective. We see so many clients with a weak core from sitting all day or after babies so we have a huge CORE focus in our sessions as this is the foundation for a fully functioning and strong body.
SWISS BALL CORE
In this session we have some fun on the balls!! This session is designed with incredible effective Core exercises to provide better CORE, a stronger back and pelvic floor. This will not only strengthen your core to give you better support and an overall body improvement, but it will FLATTEN the CORE also, making those jeans slide on just nicely 😉 But most importantly your whole body will function so much better having a strong foundation. Great for those with back pain, poor posture, weak pelvic floor and anybody who wants to improve their health.
METABOLIC CONDITIONING
This session is designed to get you fit, build muscle tone and torch fat FAST! Definitely a sessions for those who don't mind a bit of sweat and a bit grunting and if we're doing our job right, a few F bombs too 😉 A mixture of weights and cardio made to get you huffing, puffing and definitely proud of yourself when you're done. If you want to ramp up your training, this is it!!
GENTLE VINYASA YOGA
This is a beautiful gentle class to compliment your hard work with a lovely stretch and focus session for the mind, body and spirit. In our Gentle Vinyasa class, your yoga instructor will take you through a Vinyasa flow that will improve your strength, core, balance and flexibility and finish you off with a beautiful relaxation savasana. Guaranteed you will want to have a sleep over in the studio after!
RELAX!
ELDOA
This is the most incredible method we have seen yet! This class is a game changer! It's for anybody who wants to improve posture, improve balance, create better body awareness, improve their recovery from training, improve the metabolism and reduce back, neck, shoulder, hip pain, headaches and migraines and improve organ function. We have clients who have been in pain for years, and in just a few sessions it is either gone or dramatically reduced! Another incredible addition to your program to create better body balance and less joint stiffness and pain.
GLUTES
Designed purely for the peaches, this class is a combination of compound and isolated glute exercises that will lift, firm and tighten your butt. This session is perfect for the ladies who want to work hard and create that derriere that will make your partner want to walk behind you everywhere that you go 😉
HIIT
For those who want to blast that bit of fat, increase your metabolism and get some extreme fitness in a blast of 10minutes. We add this to the end of our Saturday session as an option. So first we will do our STRENGTH program, then for those who are willing and able, they can stay on for HITT. We understand that every body is different so not all people are expected or permitted to stay as we take your body's health seriously and sometimes less is more. Others who stay will get an extreme blast of strength and cardio in a fun and fast format of 10 minutes to set you up for an incredible weekend!
STRETCH & MOBILITY
After a big week of training, working and overall life'ing we need to balance the body with some beautiful stretching, mobility and relaxation. Our bodies need the stretch (work IN) as much as the Strength (work OUT) sessions so come in and allow us to help you to relax and fill your cup, gain better mobility, reduce your stress and leave you in a state of bliss for the weekend.
TRY 2 WEEKS OF GROUP PT
for $47